scratch-off maps and posters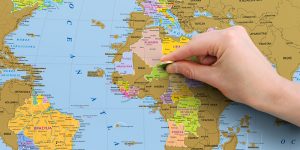 Scratch-off map
map is a brilliant way how to show on a map places you have visited, places included in your wish-list or any other places – the only limit is your own imagination! Every scratch-off map is based on a precise political or administrative map, supplemented with flags or local coats of arms. Scratch-off maps and posters are packaged in a cardboard tube of special design and are perfect as a gift. Our experience and geographical knowledge make our scratch-off maps and posters adaptable for any language. We have produced scratch-off map "World" in several languages and scratch-off maps for Latvia, Lithuania, Estonia, Sweden, Switzerland, Norway and Poland in their native languages.
map jigsaw puzzles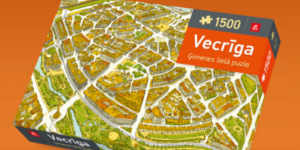 Puzzles that are both fun and educational – we believe it's one of the best ways to learn geography through active playing. For children our Nature puzzle with wild animals is the most suitable. Very special are our round-shaped puzzles – each of them represents one of the hemispheres with its typical wild animals. Real "puzzle gourmands" enjoy our World map puzzle, based on a detailed political map of the world. The design of the puzzle also includes flags from all over the world. Find our puzzles
here!
wall maps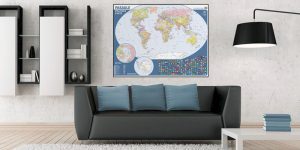 Wall maps
are always popular and required. Options for their usage are incredibly wide – from schools where they are used as educational visuals, to logistics companies which use postal code wall maps for accurate delivery. Administrative maps are useful for decision makers in local and state governments. Variety of sizes and materials is impressive – paper, plastic, plastic white-board or magnetic board. Paper maps might be laminated and framed with plastic or metal rails. A map can be printed also on canvas – not just informative but beautiful design element as well.
road maps, atlases and guide BOOKS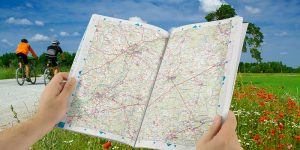 We are pretty sure that in almost every car in Latvia you will find some of our
road map editions
 – it might be pocket size folded map or maybe a thick and very detailed atlas where every household in the countryside is displayed. For selective customers we offer laminated road maps that are extremely durable. Our bestseller in
guide book
category is the series "With a Map in Nature" – laminated and Wire-O bound maps that are convenient for use in rough conditions. Easy to overview and to see overall information – these are the best qualities for printed maps that allow them to compete with mobile map applications.
educational publications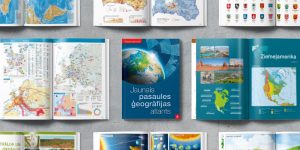 Our works/customer references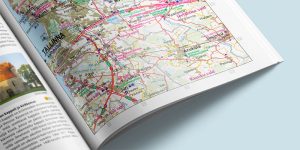 Estonia Travel guide
"It was really great to cooperate with Latvian Jana seta to create the first compact travel guide about different parts of Estonia for Estonians in Estonian. Approved and trustable information, 81 accurate maps and more than 600 photos about more than 800 tourist sites, museums and nature trails make this publication one of the most complete travel guides about Estonia. I do really believe that this edition is of great assistance for every Estonian traveler and helps to open eyes and see beautiful places nearby!"
Mirjam Parmasto, Sales manager, Regio OÜ, Estonia.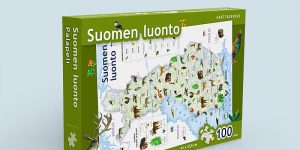 Puzzle "Finnish nature"
"The puzzle of Finnish nature was our Christmas bestseller in 2016. The puzzle for children shows map of Finland and is complemented with illustrations of dozens of species typical for Finnish nature, both animals and plants. I highly evaluate the good cooperation with Jana seta – they offered great idea for a new product and were ready to execute our order in good terms and high quality."
Janne Kostamo, Director, Map, books and location data products of Karttakeskus OY, Finland.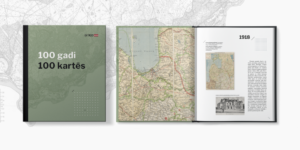 Books "100 Years in 100 Maps" un "100 Maps Before the State of Latvia"
"Maps and atlases published by Jana seta form an important part of the map collection in the National Library of Latvia, and we also successfully cooperate in the research and popularization of older maps. Together we have published two books: "100 Years in 100 Maps" and "100 Maps Before the State of Latvia". For the first time, many maps of Latvia published from the end of the 18th century to the present day can be seen in them. In 2021, Jana seta georeferenced more than 300 ancient maps sheets, and these maps will soon be available in the new Map Browser of the National Library of Latvia. We are confident of further successful cooperation!"
Reinis Vāvers, Head bibliographer, National Library of Latvia.
Contact us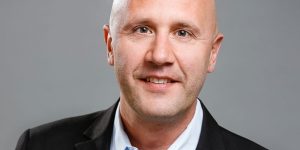 Mr. VALDIS ŠMITS
---
Head of Sales
---
Phone: +371 22019364
E-mail: valdis.smits@kartes.lv
We are open for new ideas and customized solutions. Please contact us to get an offer for realization of your ideas!