GIS ANALYSIS OF resource and service location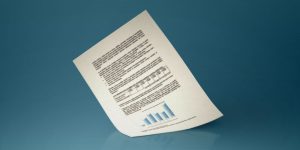 Our information and software tools allow us to perform geospatial analysis of many kinds of data and processes and display them on a map. Our experience in integration of specific customer created data in GIS systems as well as information analysis skills enable us to develop smart solutions – whether it is resource management or efficiency enhancement of service provision.
consultations for regional and national development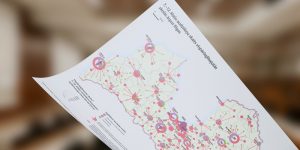 Universal expertise and economic geographers' view of the world enables us to understand and forecast processes in regional and national scale. These skills to explain the most complicated issues in the most obvious way – by displaying them on maps – are highly evaluated by governmental institutions like the Parliament of the Republic of Latvia, Ministry of Environmental Protection and Regional Development of the Republic of Latvia, Ministry of Education and Science of Latvia as well as several local municipalities in Latvia. The main consulting topics are economics, demography and education. In 2017 the study
"Optimizing the network of educational institutions in Latvia"
was carried out, which is now the basis for the school network optimisation decisions. In 2019–2020, during the implementing the administrative and territorial reform, Jana seta developed the substantiation of the administrative and territorial reform, as well as an online geospatial planning platform for 
the administrative-territorial reform
.
Thematic mapping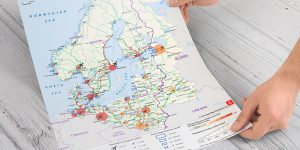 Thematic map is the most obvious way to display results of geospatial analysis of statistical data, big data and distribution of many kinds of processes and phenomena. Jana seta is the leading developer o thematic maps in the Baltic States. We have created high quality maps about history, population, economical industries as well as nature geography. On request our team of professional cartographers will create the perfect map on any topic.
Customer references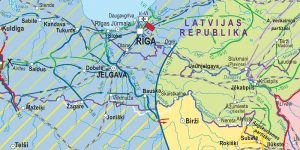 Thematic maps for Latvia's National Encyclopedia
"Good maps are a critically important part of the Encyclopedia. In creation of high quality thematic maps accuracy, awareness and expertise on different topics, responsibility as well as experience are crucial skills. Jana seta truly fits these requirements. In cooperation with the editorial board of the Encyclopedia, the company has demonstrated themselves as a professional and reliable partner."
Valters Ščerbinskis, head of the editorial board of the Latvia's National Encyclopedia.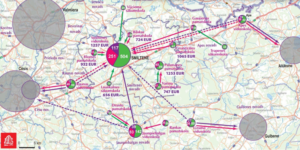 Analysis of placement of declared persons in Smiltene local municipality
"Jana seta has given us the opportunity to become acquainted with our municipality, to analyze and understand the new challenges. They have developed tools that help us in everyday work, leave less space for empty speeches and make it possible to avoid different interpretations."
Gints Kukainis, Mayor of Smiltene Municipality Council.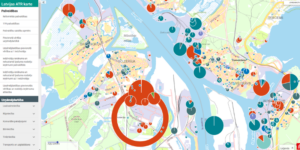 Development of substantiation and geospatial planning platform for municipal reform
"During the preparation of local government reform, the ministry implemented a data-based reform model. The new platform is another supporting tool – data-based information that the ministry offers to municipalities to use while creating their own development scenarios and making the best possible decisions for the development of the territory during the process of merging."
Juris Pūce, former Minister of Environmental Protection and Regional Development.
CONTACT US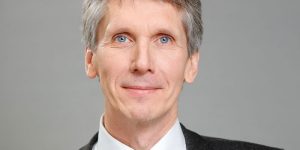 Mr. JĀNIS TURLAJS
---
Editor-in-Chief
---
Phone: +371 67317535, +371 29237219
E-mail: janis.turlajs@kartes.lv
We are open for new ideas and customized solutions. Please contact us to get an offer for realization of your ideas!